By: Justin Hawkins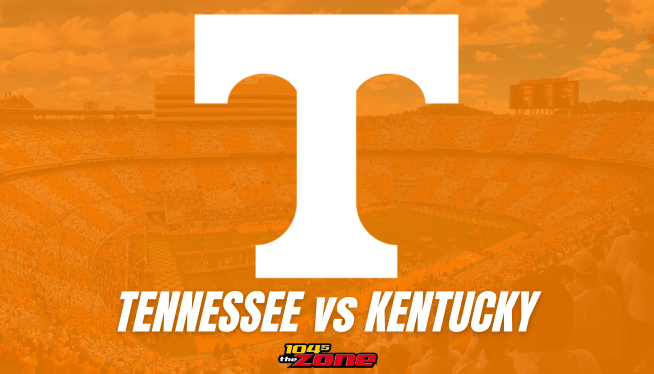 "We just let go of that rope, felt comfortable, felt like we won the game already."

-Tennessee Vols linebacker Elijah Herring
It was a tale of two halves for the Tennessee Volunteers this past Saturday. After leading 20-7 at halftime, the Vols were outscored 27-0 in the second half to the Alabama Crimson Tide in a 34-20 loss in Tuscaloosa. Tennessee (5-2) will look to regroup as they travel to Lexington to face an SEC East rival in the Kentucky Wildcats (5-2).
Last Time Out
Tennessee
The Tennessee Volunteers traveled to Tuscaloosa to face the 11th ranked Alabama Crimson Tide and left with a 34-20 loss. Despite a strong first half leading 20-7, the Vols could not get anything going offensively, defensively, or on special teams throughout the second half in which Alabama outscored Tennessee 27-0.
In the first half, Tennessee just about did whatever they wanted despite not converting for seven points twice in the red zone in which they were held to field goals both times. The Tennessee defense forced 3 punts and a fumble on the opening four possessions of the game for the Tide.
Alabama did a solid job on defense by stopping the run as Tennessee was held to just 133 yards rushing led by Tennessee quarterback Joe Milton who had 59 yards. The Alabama defense also got after Milton regularly in the second half smothering him and even forcing a Milton fumble that resulted in an Alabama defensive touchdown.
Tennessee quarterback Joe Milton finished the game 28-of-41 for 271 yards passing with two touchdowns. Sophomore wide receiver Squirrel White finished with 10 catches for 111 yards and a touchdown, but had 8 catches for 103 yards just in the first half. Tight end McCallan Castles had the other receiving touchdown that came in the second quarter.
The second half is where the script flipped when the Tide turned it on and the Vols struggled. Alabama scored 20 points on its opening four possession of the second half. The Crimson Tide's first possession took just 2 plays and ended with a Jalen Milroe deep pass to receiver Isaiah Bond for a 46 yard touchdown started the Vols demise. Alabama also added a fifth score when Joe Milton was strip sacked, fumbled, and returned for a touchdown by the Tide. Alabama quarterback Jalen Milroe finished 14-of-21 for 220 yards with two touchdowns and added an interception as well. Running back Jase McClellan was very effective against Tennessee's run defense carrying the ball 27 times and gaining 115 yards with a touchdown.
Kentucky
The Kentucky Wildcats hosted a surprisingly solid 5-1 Missouri Tigers team two Saturdays ago and came away with a 38-21 loss in Lexington.
Kentucky did a solid job early jumping out to a 14-0 lead in the first quarter and forcing a Brady Cook interception. But, Missouri needed a spark and risked a fake punt to jump start their team and it worked. Punter Luke Bauer tossed up a 39 yard touchdown pass to receiver Marquis Johnson early in the second quarter and it was all Tigers from there.
Kentucky quarterback Devin Leary did not have the best day throwing as he went 14-of-27 for 120 yards and two touchdowns as well as two interceptions to go along with it. Leary also fumbled twice but was able to maintain possession each time. Leary was able to get a score on the ground, though, as he rushed for a 13 yard touchdown at the end of the first quarter.
The Kentucky offense is lead by senior running back Ray Davis, a transfer from Vanderbilt, who rushed for 128 yards Saturday on 20 carries and also had 2 receptions for 11 yards and a touchdown.
The Kentucky defense, after the fake punt, had a difficult time slowing dow the Missouri offense. The Tigers accumulated 332 total yards and went on a 38-7 run from the start of the second quarter. Missouri quarterback Brady Cook finished the game throwing 19-of-29 for 175 yards along with a touchdown and an interception. Cook also was able to score on the ground as well.
The Matchup
The Tennessee Volunteers head up into Wildcat country to face the Kentucky Wildcats in Lexington at Kroger Field. All-time, the two sides have met a total of 118 times and the Vols lead the way with 83 wins to Kentucky's 26. The other nine games resulted in a tie. The Vols have not lost in Lexington since 2017.
The Wildcats are coming off a bye week and two straight losses. Tennessee enters the contest after a second half no-show loss last week. The two teams are fairly similar entering this matchup. Both sport quarterbacks that have been underperforming and underwhelming through eight weeks of play in Devin Leary for Kentucky and Joe Milton for Tennessee. Both have solid run games that have been consistent in Ray Davis for Kentucky and Jaylen Wright for Tennessee. And, both teams are 5-2 on the season.
On the season, the Vols are averaging a score of 31.6 points per game. They are 7th in the nation at rushing the football as they average 217.3 yards per game. On defense, the Vols rank 30th in the country in terms of team defense as they are allowing just 19.4 points per game, and they also rank 3rd in the country in sacks with 28.
For Kentucky, the Wildcats offense averages 352.1 yards per game which has them at 93rd in the nation. They are 45th in the nation in scoring with 31.3 points per game. On defense, the Wildcats concede 23.6 points per game which puts them at 57th in the country in team defense.
Penalties are a common foe for both teams and have similar numbers. Tennessee has committed 56 penalties this season for 470 yards and Kentucky has committed 54 penalties for 476 yards.
Game Information
#21 Tennessee Volunteers @ Kentucky Wildcats
Time: October 28th @ 6:00pm CT
Location: Kroger Field (Lexington, Kentucky)
TV Broadcast: ESPN
TV Broadcast Crew: Mike Monaco, Jesse Palmer, Katie George
Radio: Vol Network (104-5 The Zone)
Radio Crew: Bob Kesling, Pat Ryan
Line: TENN -4
Over/Under: 51.5
Things To Watch
Run to Victory
The Tennessee Vols are undefeated this season when rushing over 200 yards. Last Saturday, Alabama limited the Vols to 133 yards on the ground. Kentucky has allowed just 95.7 yards rushing per game this season, so running may be difficult. Tennessee's run game is the key to success this year behind Jaylen Wright, so establishing the run early will be important.
Limiting Ray Davis
Kentucky Wildcat's running back Ray Davis has been a bright spot in the Kentucky offense, but limiting him can prove to make their offense one dimensional. That is easier said than done, but the Vols are allowing just three yards per rush this season to opposing running backs. Being strong up front and not allowing Davis to take over the game could prove vital.
Tennessee's Pass Rush
The pass rush of Tennessee was another aspect that struggled to make an impact last Saturday against Alabama even though they sacked the quarterback four times. In the second half, they sacked Milroe just once. I am looking for more consistency this week and take over the game behind stout rushers in Tyler Baron and James Pearce Jr.
Joe Milton
Tennessee quarterback Joe Milton has been widely inconsistent this season, but the wide receivers have not been of much help to that factor. As the second half of the season begins, Milton needs to find another gear and make smart plays that lead to Tennessee winning football games. Put the second half behind you, and channel the first half as much as possible. That type of play is in the senior quarterback, but just needs to be more consistent.
Tennessee Vols and 104-5 The Zone
Join 104-5 The Zone's 3HL as we broadcast live from Scoreboard Bar & Grill on Music Valley Dr. this Friday, October 27th! Stop by as we officially kickoff the football weekend at Scoreboard Bar and Grill and while you are there, sign up to win Tennessee tickets and try to beat Brent and Slay's picks of the week for your chance to win $250 in tickets and prizes from Scoreboard Bar & Grill!
Follow along with 104-5 The Zone for all the latest news and info on Twitter/X @1045TheZone.
Vol Network's coverage of Tennessee @ Kentucky begins at 4:00 PM CDT on 104-5 The Zone!