By: Justin Hawkins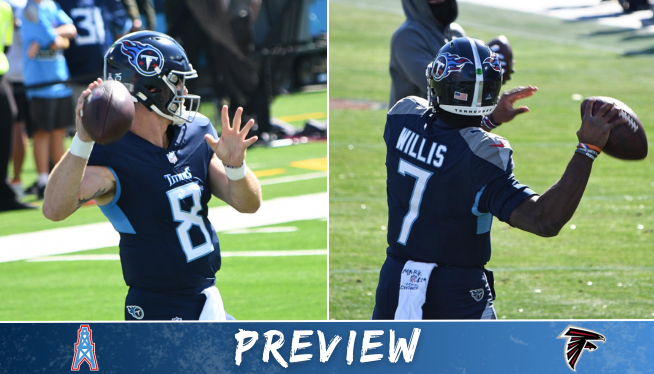 "We need to figure something out. We need to figure out the guys who want to fight, the guys who want to be out there, and not the guys that don't want to be out there. That's what it needs to be."

– Tennessee Titans DT Jeffery Simmons

"You want our identity? We're going to fight. We ain't going to quit. We've been through this before."

– Tennessee Titans HC Mike Vrabel
Things did not go the Titans way in London and headed to the bye week as the Baltimore Ravens came out on top 24-16 game. Now, the Tennessee Titans (2-4) return to Nissan Stadium fresh off the bye ready for a throwback matchup against the Atlanta Falcons (4-3) as the team will dawn its 'Luv Ya Blue' Houston Oilers throwback uniforms.
AFC SOUTH STANDINGS

Last Time Out
Tennessee
The Titans could not get much going offensively or defensively in London against the Ravens as the score was much closer than how the game actually felt. The Titans struggled yet another week in the red zone and lost quarterback Ryan Tannehill to an ankle injury late in the third quarter.
The Titans made it to the red zone four times on ten possessions against the Ravens and got points out of each of them. However, the Titans are still struggling to get seven points instead of three. Veteran kicker Nick Folk continues to be reliable as he is a perfect 16/16 this season. But the Titans are 29th in the league in red zone efficiency at 33.3% when it comes to scoring touchdowns. Only the New York Giants, New York Jets, and Pittsburgh Steelers are worse.
While the red zone woes may be bad for the Titans, losing Ryan Tannehill may be icing on the cake to a slumping team. Ryan Tannehill, who went 8/16 for just 76 yards and an interception, left the game late in the third quarter due to a high-ankle sprain, one that is similar to last year that kept him out of five games. Backup quarterback Malik Willis took over, and let's just say it didn't go well for the second year man out of Liberty University. On Willis' two possessions, he was sacked four times, struggled to see down field and find open receivers, and held on to the ball too long.
The lone bright spot for the Titans offense were the running backs with Derrick Henry, 12 carries for 97 yards and a touchdown, and Tyjae Spears, 1 reception for 48 yards. The run game for the Titans is still the key to success, but is under utilized. Derrick Henry only received 12 rushes, but was highly effective as he averaged 8.1 yards per carry. The Titans now have fallen to 2-4 when Henry receives less than 20 carries in a game. Is there a coincidence? I think so, the Titans run game is still what this team is built off of and that showed once again in London.
On the flip side, the Titans defense, outside of the red zone, struggled for the second week in a row. Ravens quarterback Lamar Jackson was able to pretty much do what he wanted as he went 21/30 for 223 yards a touchdown and interception along with leading the team in rushing with 62 yards. The Titans had a hard time stopping the Ravens from getting to the red zone, six times, but they allowed just one touchdown and the rest were field goals. Chunk plays and X plays continue to be a problem for the Titans who allowed at least five explosive plays to the receivers.
Sean Murphy-Bunting made a nice play, in the third quarter, on a bad Lamar Jackson pass to intercept it and eventually led to Derrick Henry's 15 yard touchdown rush.
Atlanta
The Atlanta Falcons traveled south to face a division rival in the Tampa Bay Buccaneers and came out with a victory on a last second Younghoe Koo 51 yard field goal. There was not much offense on display and the score was close throughout as the final was 16-13. For Atlanta, that could have been a result from a late notice of illness from their star rookie running back in Bijan Robinson, who complained of headaches and not feeling right Saturday night and into Sunday. Robinson was limited to just 11 snaps.
Second year quarterback Desmond Ridder, 19/25 for 250 yards, did not play well and gave the Bucs' a great chance to win as Ridder lost three fumbles on the day, all in the red zone and two of them coming on the 1-yard line. The Bucs' were unable to score any points off of turnovers, so the Falcons were in luck in that aspect. The Falcons, without Bijan Robinson, lack creativity and that was on display Sunday.
The Falcons offense managed to gain 401 total yards, but were able to find the end zone just once. For the defense, they allowed the Buccaneers to 329 yards of total offense and forced two turnovers, one interception and one fumble. Bucs' quarterback Baker Mayfield threw for 275 yards along with a touchdown and interception on 27/45 passing.
Atlanta was penalized nine times Sunday for 60 yards, with six of those penalties resulting in Tampa Bay first downs. Mental mistakes are a common theme this season with the Falcons.
The Matchup
It's Oilers week for the Tennessee Titans who will be dawning the 'Luv Ya Blue' uniforms that the franchise wore from 1981 until 1998.
The Atlanta Falcons come to Nashville to face a battered Titans team that will be without a starter on defense and could be without their starting quarterback.
On Monday, veteran safety Kevin Byard was traded to the Philadelphia Eagles in exchange for safety Terrell Edmunds and two draft picks in the 2024 draft, a 5th & 6th round selection. Byard's tenure in Tennessee was one not to forget and did not miss a game since he was drafted in 2016. Byard was solid in coverage and against the run, but newcomer Terrell Edmunds does not compare by any means. Edmunds can be decent against the run, but struggles in coverage. I can imagine the Titans initially using him in defense against the run and sample him in slowly in passing situations. It's also NOT A GUARANTEE that Edmunds suits up Sunday.
Titans quarterback Ryan Tannehill left the towards the end of the third quarter in their last game in London two weeks ago and has yet to practice this week. On Tuesday, head coach Mike Vrabel mentioned that if Tannehill is unable to go, then both second year quarterback Malik Willis and rookie quarterback Will Levis would see playing time. This is certainly a situation to monitor. 
UPDATE: Ryan Tannehill has been officially ruled OUT for Sunday's game versus the Atlanta Falcons after failing to practice this week. Rookie quarterback Will Levis is expected to get the start and Malik Willis to be the backup.
The obvious uncertainty in this matchup is who will the Titans trot out at quarterback and how will they play. The Titans and the Falcons are similar teams this season, outside of the win and loss record. Both teams have quarterback questions. Falcons quarterback Desmond Ridder has five turnovers in his last two games, so the opportunity is there for a Titans defense that has struggled to take advantage so far this season in that area.
The reason the Falcons are winning games this season is due to their defense who is third in the league in opponent total offense with just 285.4 yards per game. The Titans defense rank 17th on that list with 339 yards per game.
The Falcons have young playmakers on offense that will give the Titans defense trouble in rookie running back Bijan Robinson and second year receiver Drake London.
Neither the Titans, nor the Falcons this season have eclipsed 28 points. If you look at the over/under total of 36.5, Vegas is not liking the odds of a high scoring output, especially when you consider the quarterback play from both teams.
Game Information
Atlanta Falcons @ Tennessee Titans
Time: October 29th @ 12:00pm CT
Location: Nissan Stadium (Nashville, TN)
TV Broadcast: CBS (News Channel 5)
TV Broadcast Crew: Beth Mowins, James Lofton, Jay Feely, Amanda Guerra
Radio: Titans Radio (104-5 The Zone)
Radio Broadcast Crew: Mike Keith, Dave McGinnis, Ramon Foster, Rhett Bryan
Referee: Clay Martin
Line: ATL -2.5
Over/Under: 36.5
Things To Watch
Malik Willis or Will Levis?
In Tuesday's media availability, Titans head coach Mike Vrabel mentioned that if starting quarterback Ryan Tannehill is unable to play Sunday, then both Malik Willis and Will Levis would see the field for snaps. This is certainly an answer from the head coach that lacks confidence in the second year quarterback Willis. When Malik Willis stepped in for Tannehill in London, Willis looked uncomfortable and a player that has not progressed from a season ago. Willis held onto the ball too long, at times, helping result in sacks and showcased bad game management as he did not go out of bounds with no timeouts left and the clock winding down late. For Levis, there is not a sample size to judge the rookie second round draft pick out of Kentucky who played half of the first preseason game against Chicago and was hurt throughout the rest of training camp. If the Titans are trying to look into their future at the quarterback position, Sunday will be a big test and Malik Willis will be on short leash. My expectation is that Levis will get the start, however, based on reports circling.
UPDATE: Ryan Tannehill has been officially ruled OUT and rookie quarterback Will Levis is expected to start with Malik Willis as the backup. Both Levis and Willis are expected to see some game action. I would expect Levis to see the bulk of the game unless he proves otherwise and Willis to come in on occasion to catch the defense off guard. It's Will Levis time in Nashville.
Who Replaces Kevin Byard?
Can anyone really replace Kevin Byard on this Titans team currently? No. But, it does offer up opportunity for guys to rise to the equation. Two players come to mind who have the best opportunity to secure quality minutes for the rest of the season. Newcomer Terrell Edmunds and third year defensive back Elijah Molden. Edmunds comes in for a new start and will immediately compete for a better opportunity. He is not great in coverage, but is best when he plays in the box. His best strength is stopping the run and also making open field tackles. For Molden, this his time to shine. His last two seasons were riddled with injuries and is still looking to prove himself. Molden is savvy and a physical defender that has a nose for the football. Molden, with the Titans, has been used to blitz and cover in the slot. This season, he has played more as a safety.
Red Zone Offense
The Titans in the red zone this season has been lack luster. Through six games, the Titans rank 30th in the league in red zone touchdown percentage with 33.3%. Atlanta, however rank 5th in the league in red zone touchdowns allowed at 30.9%. It will be tough for Tennessee to get into the end zone, but that stat needs to change if they want to start adding tallies in the win column. That can start with giving the ball to your play makers in Derrick Henry, Tyjae Spears, and DeAndre Hopkins (who has yet to score a touchdown this season).
Titans Pass Rush
It's time for the Titans pass rush to come alive. There is a lot of money spent in the front seven to add a lot of production, but it just isn't coming together as of late. In the Titans last two games, the defense manage just two total sacks, with one in each game. The Falcons are 25th in the league in sacks allowed this season with 20 sacks through seven games. The opportunity is there for the Titans, and it's time to see if what Jeffery Simmons said can invoke a spark. "We need to figure out the guys who want to fight, the guys who want to be out there, and not the guys that don't want to be out there."
Stopping Bijian
Falcons rookie running back Bijan Robinson has been a Swiss Army knife this season. Robinson is explosive out of the backfield and can be highly effective in the passing game. The Titans are going to have their hands full Sunday in stopping the Texas Longhorn product. I would expect linebacker Azeez Al-Shaair to be a Robinson spy and help in coverage. Linebacker Jack Gibbons is also someone to expect to play a role in stopping Bijan. The Titans defensive front behind Jeffery Simmons and Teair Tart, if he is in the lineup, will be key as well.
Did You Know?
Nick Folk enters the game with a streak of 70 consecutive field goals made on attempts from less than 40 yards, tying the NFL record first set by Justin Tucker. Folk would break the record by making his next field goal attempt from under 40 yards.
Derrick Henry (81 career rushing touchdowns) needs one more rushing touchdown to tie Corey Dillon (82) for the 18th highest total in NFL history. Two rushing touchdowns would place him in a tie with Jim Taylor (83) for 17th all-time.
In seven career games against the Falcons as a member of the Tampa Bay Buccaneers, Sean Murphy-Bunting recorded 33 total tackles, one forced fumble and one fumble recovery.