By: Justin Hawkins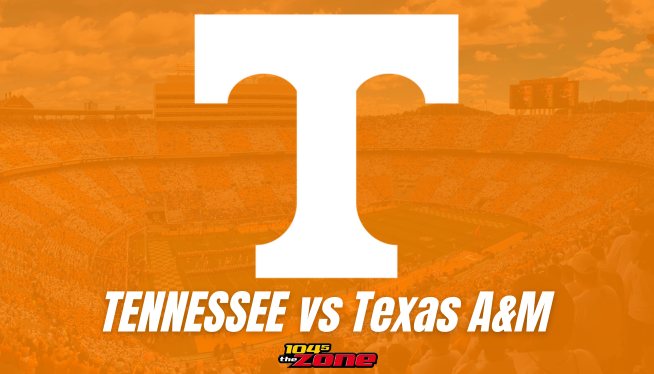 The Tennessee Vols went into the bye week with a statement 41-20 win over the South Carolina Gamecocks two weeks ago. Now, the Vols (4-1) face their toughest SEC opponent yet this season in the Texas A&M Aggies (4-2) in front of a checkered-out Neyland Stadium.
Last Time Out
Tennessee
The Volunteers went into dark mode and dominated the visiting South Carolina Gamecocks in week 5 as they went on to a 41-20 victory at Neyland Stadium.
The Vols win did not come without a price, however, as senior wide receiver Bru McCoy suffered a season ending fracture/dislocation of his right ankle. This is a big loss for Tennessee because of McCoy's reliability and strength in the lineup as well as his experience and leadership he brings to his peers.
The Vols offense showed out and proved Josh Heupel right in that the success to their offense goes through the rushing attack first. Tennessee rushed for 238 yards and three touchdowns as a whole. Junior running back Jaylen Wright led the way with 123 yards and a touchdown on 16 carries. Senior running back Jabari Small and sophomore running back Dylan Sampson had the other two rushing touchdowns. The Vols were also dynamic in the passing game too through quarterback Joe Milton III. Milton threw for 239 yards going 21/32 passing with one touchdown and two interceptions. This may have been sophomore wide receiver Squirrel White's coming out game as he was the games leading receiver with 9 catches for 104 yards.
On the defensive side of the ball, this was Tennessee's best performance all season by a long shot. They held Spencer Rattler in check all game and forced him to one of his worst performances this season as he went 24/35 for 169 yards and one interception that was returned 28 yards for a Kamal Hadden touchdown. The Tennessee defense were also able to sack Rattler six times. The defense exploited a bad Gamecocks offensive line and created havoc on Rattler.
Texas A&M
The Aggies suffered a heart breaking 26-20 home loss to the Alabama Crimson Tide last weekend. After A&M jumped out to a 17-10 lead at halftime, it was all Alabama in the second half scoring 16 unanswered points. The Aggies kicked a late field goal to cut the game to six points, but could not get the ball back.
The A&M defense was strong against the Crimson Tide rush by just allowing a total of 23 yards, but were gashed in the secondary allowing Alabama quarterback Jalen Milroe to 21/33 for 321 yards and three touchdowns as well as one interception. Alabama wideout Jermaine Burton had 197 yards and two touchdowns. The Aggie defensive front is strong as they sacked Milroe six times.
The A&M offense is led by sophomore quarterback Max Johnson, who took over the starting job after Conner Weigman got injured two weeks ago. Johnson passed for 239 yards with a touchdown and interception on 14/25 passing. The Aggies rushed for just 67 yards and a touchdown behind sophomore running back Le'Veon Moss who had 49 yards and a touchdown.
The Matchup
All-time the Vols and Aggies have faced each other just four times in their history. The series is currently tied at 2-2. Since entering the SEC in 2012, Tennessee has yet to beat Texas A&M. The Vols last victory over the Aggies came in the 2005 Cotton Bowl on New Year's Day that saw Tennessee win 38-7.
The Aggies have NFL talent on their defensive front and can get after the quarterback against any team they face. They are led by McKinnley Jackson, Shemar Turner, and Tennessee native Walter Nolen. This game will certainly be a battle at the trenches, and will have to keep an eye out on how the Tennessee offensive line will hold up.
The Aggies are leaky on defense, so the Vols will need a consistent and efficient Joe Milton on offense to find success similar to what Alabama did last week to A&M.
The Vols had their best defensive performance last time out and need to keep that success going. Texas A&M has good talent everywhere you look, but a high-energy and high powered attack can limit the Aggie offense with a young quarterback.
Game Information
Texas A&M Aggies @ #19 Tennessee Volunteers
Time: October 14 @ 2:30 PM CT
Location: Neyland Stadium (Knoxville, TN)
TV Broadcast: CBS
TV Broadcast Crew: Brad Nessler, Gary Danielson, Jenny Dell
Radio: Vol Network (104-5 The Zone)
Radio Crew: Bob Kesling, Pat Ryan
Line: TENN -3.5
Over/Under: 55
Things To Watch
Who Steps Up in Place of Bru McCoy?
Sophomore wide receiver Squirrel White had his best game of the season before the bye week going 9 catches for 104 yards. With Bru McCoy out for the year, Tennessee will need White to step up and carve out a bigger role in the offense. Also, transfer wide receiver Dont'e Thornton, who missed the last game due to injury, could see his name called more. Head coach Josh Heupel expects Thornton to be full speed and ready this week.
A&M Defensive Front vs. Vols Offensive Line
I mentioned earlier about the Aggies stout defensive line. This will be a key matchup to see how Tennessee's offensive line can hold up. After a slow start to the season, the Vols got senior center Cooper Mays back in the lineup in the last game and certainly improved allowing just one sack. If the pressure starts to mount on Joe Milton, I would expect him to start finding his receivers short to get the ball out of his hands quickly.
Maintain Defensive Success
In their last game against the Gamecocks, Tennessee's defense played their best so far this season. Tennessee will need to keep the pressure on again and force sophomore quarterback Max Johnson to be flustered and create mistakes like Spencer Rattler. Sophomore linebacker James Pearce Jr., who had two sacks in the last game, looks like an elite talent and the Vols will need high pressure again from him in this one.
Three Headed Monster Rushing Attack
The success of the Tennessee Volunteer offense starts and finishes with their trio of a rushing attack with Jabari Small, Jaylen Wright, and Dylan Sampson. After rushing for over 200 total yards between the three of them, Tennessee would be smart in trying replicate the same formula. The less pressure on Joe Milton, the more success Tennessee's offense has.
Tennessee Vols & 104-5 The Zone
Join 104-5 The Zone's 3HL as we broadcast live from Scoreboard Bar & Grill on Music Valley Drive this October 13th! Stop by as we officially kickoff the football weekend at Scoreboard Bar and Grill and while you are there, sign up to win Tennessee tickets and try to beat Brent and Slay's picks of the week for your chance to win $250 in tickets and prizes from Scoreboard Bar & Grill!
Follow along with 104-5 The Zone for all the latest news and info on Twitter/X @1045TheZone.
Vol Network coverage of Tennessee vs Texas A& M begins at 12:30 PM CDT on 104-5 The Zone!