By: Justin Hawkins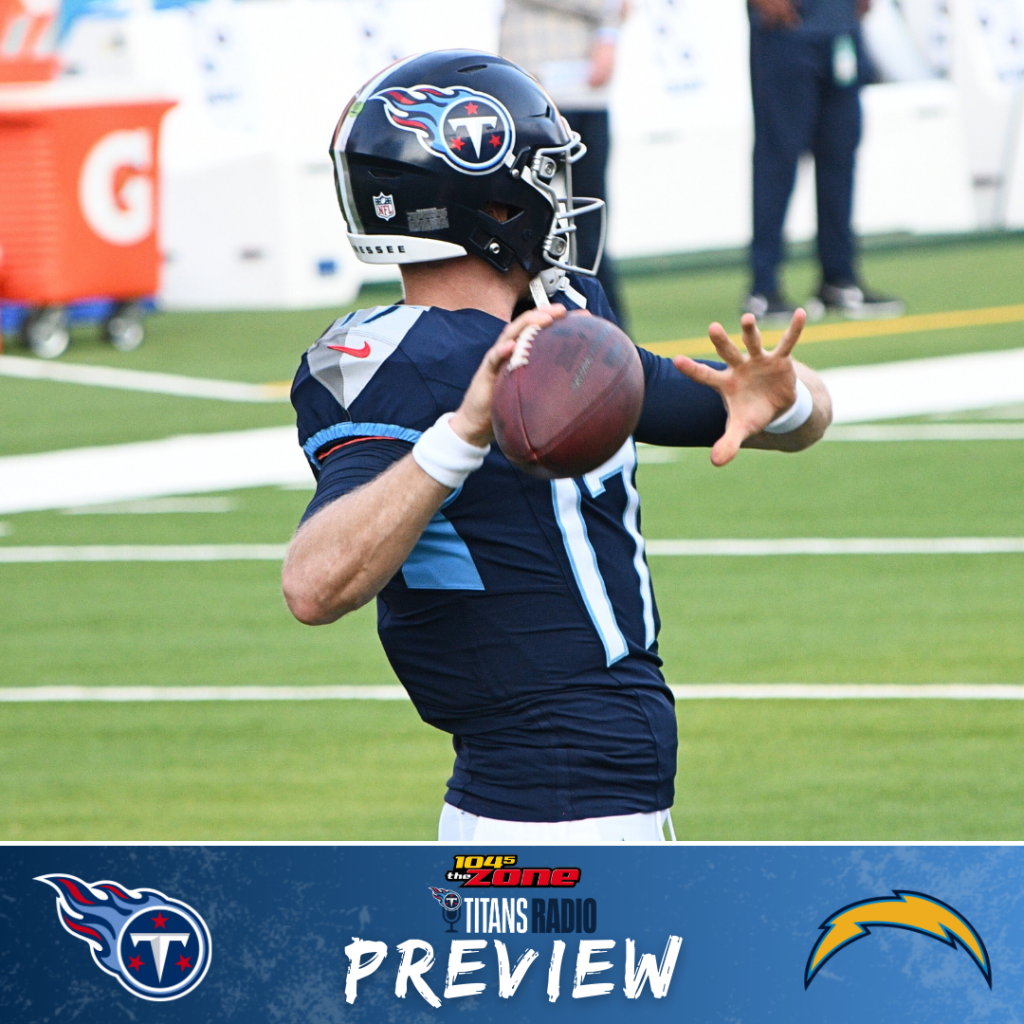 After a rocky start in New Orleans for the season opener that resulted in a 16-15 loss, the Tennessee Titans (0-1) head back home for the first time in the regular season for a matchup with the Los Angeles Chargers (0-1) as they try to bounce back into the win column.
Last Time Out
Tennessee
The Titans lost on the road 16-15 in New Orleans against the Saints in what was a nail biter until the end. Many were hoping to see an improved offense under new offensive coordinator Tim Kelly, the return of quarterback Ryan Tannehill, and the addition of wide receiver DeAndre Hopkins. However, disappointment was the reality of the Titans offense that left New Orleans in which they were just 2 for 12 on third down conversions. Ryan Tannehill ended the game going 16/34 198 yards and 3 interceptions along with a QBR rating of 28.8, his lowest rating in his career. Tannehill was uncharacteristically bad in his 2023 debut making ill-timed throws, missing wide-open receivers down the field that would have resulted in touchdowns to the likes of tight end Chig Okonkwo and running back Tyjae Spears in the second half, and forcing the ball into double and triple-coverage that resulted in turnovers. Tannehill had not played since his ankle injury in week 14 against the Los Angeles Chargers in LA so maybe rust was a factor, and no I'm not including him not playing in the preseason as a problem (Tannehill looked great in practice and training camp in which he got great reps against the defense and Minnesota Vikings in joint practices). However, Tannehill was not the only player that left New Orleans with questions surrounding him. Running back Derrick Henry played 28 snaps on offense which is good for just 47.5% of the plays ran. In his 28 plays, Henry was very efficient as he ran 15 times for 63 yards and added 2 receptions for 56 yards. Tim Kelly and the offense went away from Henry far too often compared to years past that makes you wonder what the direction is moving forward. Henry was out snapped by rookie Tyjae Spears who had 33 snaps on offense.
For the receivers, DeAndre Hopkins was featured often in his debut. Hopkins received a game high 13 targets and secured 7 receptions for 65 yards. However, two of his targets were interceptions. On the opposite side of Hopkins, second year receiver Treylon Burks struggled as he saw just 3 targets and hauled in two of them for just 18 yards. His one incompletion was a bad drop for what would have been a third down conversion.
The offensive line played about as expected in their debut as they allowed 3 sacks and did not allow much of pocket for Tannehill to operate in. They did pick it up in the second half led by rookie right guard Peter Skoronski, in which the line allowed just one sack and protected Tannehill much better. Skoronski finished Sunday graded as the 7th highest offensive lineman in the league per Pro Football Focus.
Now, on the other side of the ball, the defense came to play after allowing just 16 points and securing four sacks. Outside linebacker Arden Key had himself a day with recording 1.5 sacks and 11 quarterback pressures. The biggest area of concern was the defensive backs in allowing several big plays and first down conversions to receivers Chris Olave, Michael Thomas, and Rashid Shaheed, who had a crucial 41 yard reception towards the end of the fourth quarter that helped to seal the win. There is a bright side, however, as the Titans were able to record two turnovers, both by safety Amani Hooker who had a fumble recovery on the opening kickoff and an interception in the second quarter. The Titans would have had one more turnover added to the mix if it were not for the obvious miscall from the official in the second quarter that saw Arden Key hit Derek Carr's arm just before the throw, and then Kevin Byard picked the ball up and returned it for a touchown. But, the play was whistled dead and ruled an incompletion and stood after Mike Vrabel challenged it. The play resembled that of the end of the week 17 Jaguars game in which quarterback Joshua Dobbs' arm was hit and the ball was fumbled and the Jags scooped it up and scored.
On the injury side of things, safety Amani Hooker left Sunday's game in the second half due to what was ruled later a concussion. His status for this week is questionable to this point. Cornerback Kristian Fulton briefly left the game due to a hamstring injury but was able to return later on. His participation in practice thus far this week is limited, but I would expect him to play this week.
There is a bright side to the Titans after week one, and that comes from the leg of Nick Folk. The kicker was just traded to the Titans two weeks ago from the New England Patriots, and he made an immediate impact by kicking and making all five of his attempted field goals. Folk was as reliable as they come hitting from 50, 27, 31, 45, and 29. Have the Titans finally found their kicker? The short term answer is yes.
Los Angeles
The Los Angeles Chargers hosted the Miami Dolphins in what was a thriller to watch. The Chargers ultimately lost 36-34. The Chargers did what the Titans could not, which was display an offense at a high level. The Chargers rushed for 234 yards and three touchdowns, including do-it-all running back Austin Ekeler rushing for 117 yards and a score. Backup running back Joshua Kelley also contributed in the run game adding 91 yards on 16 carries and found the end zone as well. Fourth year quarterback Justin Herbert threw for 228 yards and a touchdown completing 23 of his 33 passing attempts. If it weren't for Dolphins quarterback Tua Tagovailoa throwing for 466 yards and 3 touchdowns, the Chargers probably take the win handily.
On the other side of the ball, the Chargers defense struggled all day. Premier pass rushers in Joey Bosa and Khalil Mack could not find pay dirt and sack Tagovailoa. In fact, LA did not record any sacks in their opener. Also, as mentioned earlier, the secondary for the Chargers allowed the Dolphins to record 466 passing yards. Dolphins star receiver Tyreek Hill was able to run mad as he finished with 215 yards and two touchdowns Sunday. The Chargers were able to create two turnovers, though, by way of an interception and fumble.
The Matchup
Both the Titans and Chargers will enter Nissan Stadium Sunday looking for their first win of the season. Neither team wants to start 0-2 as history tends to repeat itself. Since 1990, when the 12-team playoffs began, 270 teams began their season 0-2. Only 31 of those teams made the playoffs that year. For the Titans, they are looking to avoid their second straight 0-2 start.
The Chargers come into this game with one of the best offenses in the league under new offensive coordinator Kellen Moore. They have a featured offense centered around quarterback Justin Herbert, running back Austin Ekeler, and two solid wide receivers in Keenan Allen and Mike Williams. Herbert is a solid dual-threat quarterback that has improved each year he has been in the league and has thrown for at least 4,000 yards in each of his first three seasons. Ekeler is a do-it-all running back that can beat you in both the pass game and run game. But, Ekeler enters the week on the injury report with an ankle injury, and his status is questionable. Joshua Kelley could see an uptick in snaps if Ekeler misses the game. Allen and Williams are two highly effective receivers that can burn you at any moment when healthy, which they are. The Titans defense will have their hands full Sunday.
The Chargers defense enters the game hungry for a sack and to show the league they aren't as bad as what the Dolphins showcased. It is hard to keep Joey Bosa and Khalil Mack off of the sack list for too long, so I expect a highly competitive and physical game from the two of them Sunday. The Titans should exploit the Chargers secondary early and often to try and find the holes on the back-end. The Chargers, in 2022, had the 4th worst defense against the rush, so I expect the Titans to utilize Derrick Henry more and establish the run game. Establishing the run game can also open up the secondary to give Ryan Tannehill some confidence in the passing game.
Game Information
Tennessee Titans (0-1) vs. Los Angeles Chargers (0-1)
Game Time: September 17 @ 12:00 pm CT
Location: Nashville, TN (Nissan Stadium)
TV: CBS (WTVF News Channel 5)
TV Broadcast Crew: Tom McCarthy, James Lofton, Jay Feely, Tiffany Blackmon
Radio: Titans Radio (104-5 The Zone)
Radio Broadcast Crew: Mike Keith, Dave McGinnis, Rhett Bryan, Ramon Foster
Referee: Alan Eck
Line: LAC -3
Over/Under: 45
Things To Watch
Ryan Tannehill
Week one was a disaster for Tannehill, let's make no mistake about it. Tannehill made bad decisions and turned the ball over three times. Behind Tannehill, Malik Willis and Will Levis were both significant investments by the Titans to upgrade the quarterback position. After the opener's disappointment, you could hear Willis or Levis' name start to be thrown around more and more. But for now, the starting job is undoubtedly Tannehill's. Week one is often considered a liar as teams start to iron out the wrinkles and shake off the rust. I expect Tannehill to improve and make smarter decisions this week, or else the two-tone blue crowd may let him hear it at Nissan Stadium. Finding receivers DeAndre Hopkins and Treylon Burks regularly will be imperative to get this offense back to where it wants to go.
Chargers Offense vs. Titans Secondary
The Titans proved their bend but do not break defensive style could have won them the game against the Saints allowing just 16 points. They fared okay, at times, covering the Saints receiver duo in Chris Olave and Michael Thomas. But, the Titans secondary face a tougher test this week with receivers Keenan Allen and Mike Williams catching the ball thrown by Justin Herbert, one the leagues top quarterbacks. I am looking for a more composed and physical secondary led by Kristian Fulton and Kevin Byard to limit the big plays like they gave up last week.
Derrick Henry
Henry has been a crucial part of this Titans team since 2018 and much of the offense has quite literally ran through him. They have also had a good deal of success going that route. However, with just 28 snaps against the Saints last week, it was hard to figure out why the king wasn't used more. Henry has been successful against the Chargers in the past, and I expect offensive coordinator Tim Kelly to utilize him more this week. When the Titans faced the Chargers in week 14 last year, Henry totaled 104 rush yards and a touchdown along with one reception for 59 yards.
Chargers D-Line vs. Titans O-Line
The next test for this newly constructed offensive line for the Titans faces a tough challenge in trying to keep top pass rushers in Joey Bosa and Khalil Mack from getting Ryan Tannehill to the ground. Last week the Chargers went without a sack on Tua Tagovailoa, and it will be really tough for the Titans to replicate that. If the Titans led by rookie Peter Skoronski can improve and push the Chargers defensive line back, the Titans offense will almost certainly start to look like how most envisioned it to be.
Did You Know?
Sunday's broadcast of Titans vs. Chargers will mark the 500th broadcast of Titans Radio. This includes preseason, regular season, and post season broadcasts. This special milestone by those at Titans Radio such as Mike Keith, Dave McGinnis, Rhett Bryan, and more have made this possible. There have been so many memories along the way including Mike Keith's signature "SAAAAACK" call. You can hear Titans Radio coverage on Sunday starting at 11:00 AM CT on 104-5 The Zone. The Zone's Titans coverage begins at 9:00 AM CT and goes until 6:30 PM CT.
The last time the Titans hosted the Chargers at Nissan Stadium was October 20, 2019 and resulted in a Titans 23-20 victory. In the victory, the Titans defense manufactured a goal-line stand in the final seconds that saw linebacker Wesley Woodyard force a Melvin Gordon fumble and recovered by Jurrell Casey in the end zone for a touchback. Ryan Tannehill got his first start as a Titan in this one as he went 23 of 29 passing for 312 yards and two touchdowns. Defensive tackle Jeffery Simmons also played his first game as a Titan after starting his rookie year on injured reserve. He recorded four tackles and one sack.
Tennessee Titans safety Kevin Byard needs just one interception to break a four-way tie and gain sole possession of fourth place in the franchise's all-time interceptions list. With 27 career interceptions, Byard is currently tied with Tony Banfield, W.K. Hicks, and Darryll Lewis.