By: Justin Hawkins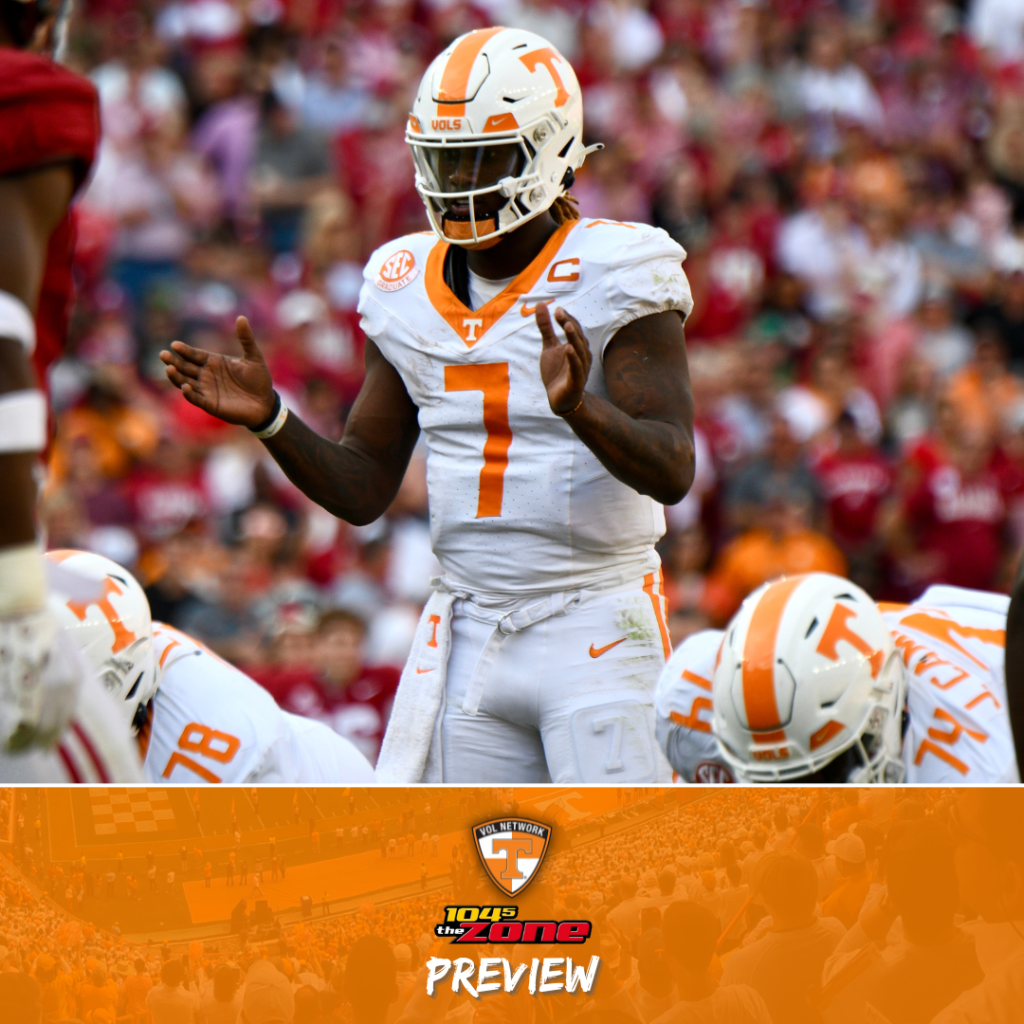 The Tennessee Volunteers had their worst game of the season on the road last Saturday on both sides of the ball as they fell to the Missouri Tigers 36-7. This week does not get any easier as No. 1 seeded and SEC East rival Georgia Bulldogs come to Knoxville for a SEC showdown.
Last Time Out
Tennessee
Not much of anything went right for the Tennessee Vols last Saturday in Columbia, Missouri as they scored just seven points in a Missouri Tiger rout of 36-7. The Vols were out gained by 180 yards, 530 to 350, and allowed Tigers running back Cody Schrader to 321 total yards from scrimmage, 205 rushing and 116 receiving. Schrader also added a rushing touchdown on his big day. The win snapped a four-game losing streak to Tennessee.
Schrader was not the only Missouri player to shred the Tennessee defense as quarterback Brady Cook threw for 275 yards and a touchdown along with an interception on 18-of-24 passing. Cook also added 55 yards rushing and a touchdown as well. Cook's rushing ability was a thorn in Tennessee's side as he helped Missouri to 11-of-17 on third down conversions.
Tennessee has one of the top rush defenses in the SEC, but they allowed 275 rushing yards marking their worst output of the season.
For Tennessee's offense, it is clear that they live and die by the success of their run game. For the first time this season, Tennessee failed to gain 100 yards rushing. Vols quarterback Joe Milton led the team in rushing attempts and yards with 10 carries for 36 yards. The only bright spot Saturday for the Vols was that Joe Milton played decent. He went 22-of-34 for 267 yards a touchdown and an interception. The lone touchdown pass was a beautiful deep 46 yard throw on a rope to wide receiver Dont'e Thornton. However, that was the only play Thornton would make as he was hobbled with a leg injury that will sideline him for the remainder of the season.
Georgia
The Georgia Bulldogs returned elite tight end Brock Powers and cruised past the ninth ranked Ole Miss Rebels 52-17. After taking an early 7-0 lead on their first possession for Ole Miss, Georgia kicked into gear and did not trail the rest of the game.
Georgia showed the nation why they are still the top team in the SEC and the country Saturday completely dominating Ole Miss on both sides of the ball starting at the line of scrimmage. The Georgia offensive line allowed 0 sacks, and the defensive line secured two sacks.
Georgia out gained Ole Miss by 259 yards, 611 to 352, led by Bulldogs quarterback Carson Beck who threw for 311 yards, two touchdowns, and an interception on 18-of-25 passing. The Georgia run game did their part as well totaling 300 yards rushing led by senior running back Kendall Milton who averaged 14.1 yards per carry going for 127 yards rushing and two touchdowns on just nine carries. Daijun Edwards added two touchdowns as well on the ground for Georgia. High-profile tight end Brock Bowers returned from injury and secured himself three catches for 34 yards and a touchdown.
The Georgia defense did their part Saturday securing two sacks, one interception, and allowing Rebels quarterback Jaxon Dart to just 112 yards on 10-of-17 passing. Dart did get hurt after being sandwiched between two Bulldogs defenders and backup quarterback Spencer Sanders took over late in the third quarter.
The Matchup
All-time, the Tennessee Volunteers and Georgia Bulldogs have met 52 times, but the Bulldogs lead the series 27-23-2. This high-profile matchup being played at Neyland Stadium promises a loud and hostile environment for opposing teams. The Vols are 12-13-1 against Georgia when playing at home.
With Tennessee's loss last week to Missouri, Georgia claimed the SEC East title for the third straight year. Last season, Georgia and Tennessee met as the number one and two seeded teams in the nation via college football playoff rankings, but Georgia spoiled Tennessee's undefeated run by winning 27-13 in Athens, Georgia. For Tennessee, despite not being able to win the SEC East, there is still much to play for including a New Year's Day bowl game and the right to possibly end Georgia's stretch of 26 wins in a row.
Georgia brings a lot to the table including the fifth ranked offense in the country by total offense as they average 504.8 yards per game and 7.29 yards per play. The wide receiver room has been the lacking point of Georgia this season, but having the best tight end in the nation in Brock Bowers brings a very tough matchup that Tennessee needs to be careful of. Georgia has one of the best offensive lines in the country and gave up zero sacks last week to an Ole Miss team that is 10th in the nation in sacks. Tennessee is ranked 7th in the nation in sacks with 33, but Georgia has only given up 9 sacks all season which is ranked 7th in the nation.
Tennessee's run game, despite not gaining 100 yards last week, still ranks 7th in the country with 213.3 yards per game. The trio of running backs for Tennessee in Jaylen Wright, Dylan Sampson, and Jabari Small will be vital to help this Tennessee offense out if they want to have success Saturday.
Game Information
#1 Georgia Bulldogs @ #18 Tennessee Volunteers
Time: November 18 @ 2:30 PM CT
Location: Neyland Stadium (Knoxville, TN)
TV Broadcast: CBS
TV Broadcast Crew: Brad Nessler, Gary Danielson, Jenny Dell
Radio: Vol Network (104-5 The Zone)
Radio Broadcast Crew: Bob Kesling, Pat Ryan
Line: UGA -10.0
Over/Under: 58.5
Things To Watch
Tennessee D-line vs. Georgia O-Line
Tennessee's defensive front versus Georgia's offensive line will be a strength versus strength come Saturday. If the Vols can manage to get through the towers that is Georgia's starting five, Carson Beck would have to do something he hasn't had to do all year, operate under duress. The question is can Tyler Baron, James Pearce Jr., and company break through?
Brock Bowers
Brock Bowers in his time at Georgia has proved to be one of the best players in college football. He provides a matchup so tough that not many teams know how to contain him. Tennessee will need their linebackers and safeties on their A-games and be sure to double team him. The Vols are going to have to live by Carson Beck finding other ways to win rather than putting the ball in Bowers hands. Take away Bowers and Tennessee's defense might have a shot to limit Georgia.
Tennessee Rushing Attack vs. Top Teams
Tennessee has one of the best rushing attacks in college football, but when it comes to playing top teams this year such as Alabama and Missouri, that rushing attack has been neutralized. Success rushing the football is Tennessee's key to victory, but if another outing like last week shows up then it will be another long day. Run game success, for Tennessee, equals passing game success.
Neyland Stadium
Neyland Stadium provides one of the best atmosphere's in sports with 101,915 roaring fans. The stadium can be one of the loudest if not the loudest in the SEC and the nation. Vols fans need to show up loud and proud to help affect the Georgia offense's operation. Bring the energy.