By: Justin Hawkins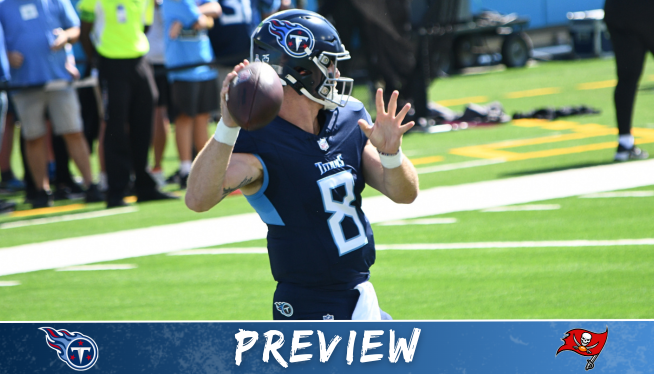 "We think that's the best opportunity for our football team right now and see where he's at. I think Ryan will progress through here this week and hopeful to be a backup for us and prepare as a starter." – Titans HC Mike Vrabel
It's officially Will Levis season as Tennessee Titans head coach Mike Vrabel names the rookie as the starting quarterback moving forward.
The Titans fell 20-16 on the road in Pittsburgh to the Steelers on Thursday Night Football. With 10 days of rest and Will Levis named the starter, the Titans travel to Tampa Bay to face the Buccaneers this Sunday in hopes of earning their first road victory of the season.
AFC SOUTH STANDINGS
| | | | | | | | |
| --- | --- | --- | --- | --- | --- | --- | --- |
| TEAM | W | L | T | PCT | DIV | PF | PA |
| Jacksonville Jaguars | 6 | 2 | 0 | .750 | 2-1 | 193 | 156 |
| Houston Texans | 4 | 4 | 0 | .500 | 1-1 | 187 | 165 |
| Indianapolis Colts | 4 | 5 | 0 | .444 | 2-2 | 232 | 242 |
| Tennessee Titans | 3 | 5 | 0 | .375 | 0-1 | 148 | 160 |
Last Time Out
Tennessee
The Tennessee Titans traveled to Pittsburgh to face the Steelers on Thursday Night Football for their first of three straight road games. The Titans ultimately fell 20-16 to the Steelers and Will Levis made his second start for the Titans with Ryan Tannehill missing his second straight game.
The struggles against the run on defense for the Titans continued as they allowed 166 yards rushing. This marked their fourth straight game allowing over 100 yards in that department. After being known last season for being stingy against the run, the Titans have questions in how they will stop the run going forward. The Titans pass rush also struggled Thursday as they recorded zero sacks on Steelers quarterback Kenny Pickett. This was the first time this season the Titans did not record a sack in a game.
While it may not seem like it, the Titans secondary has been quietly playing better as of late. They allowed just 160 passing yards to Pickett and one touchdown. Steelers wide receiver Diontae Johnson was the achilles heel Thursday recording seven receptions for 90 yards and a touchdown.
For the Titans offense, rookie quarterback Will Levis, for the second straight week, continues to be a bright spot in the Titans offense. Levis went 22-of-39 passing for 262 yards and an interception, which came on the last play of the game. Levis lead the Titans to a three point lead in the fourth quarter, but Kenny Pickett and the Steelers drove back down the field for the eventual game winning touchdown to Johnson.
Titans running back Derrick Henry rushed 17 times for 75 yards and a touchdown. Wide receivers Kyle Philips and DeAndre Hopkins were the favorite targets for Levis Thursday. Philips led the Titans with 4 catches for 68 yards on 5 targets while Hopkins had 4 catches for 60 yards on 11 targets. The chemistry between Levis and Hopkins in week 8 against Atlanta was not all there against Pittsburgh as Hopkins was continuously doubled.
Injuries were a trend in this one. Wide receiver Treylon Burks left late in the fourth quarter with a concussion. Right tackle Nicholas Petit-Frere was in and out of the lineup for much of the game with a shoulder injury, and reports came out earlier this week that he would need shoulder surgery. He has not been ruled out to this point, however. Right guard Daniel Brunskill was seen limping heavily after Thursday's game with a right ankle/leg injury and he is questionable to play this week. Cornerback Sean Murphy-Bunting has been dealing with a thumb injury since Atlanta and left the game early and did not return. Head coach Mike Vrabel ruled him doubtful Wednesday to play this Sunday.
Tampa Bay
The Tampa Bay Buccaneers found themselves in a track meet late in their game last Sunday against the Houston Texans and would ultimately fall 39-37. If it weren't for a masterful last drive of the game from Texans rookie quarterback C.J. Stroud that resulted in a touchdown with 6 seconds left in the game, the Bucs would have come out with the win. Instead, quarterback Baker Mayfield and the Buccaneers left Houston with their fourth straight loss.
Baker Mayfield, 21/30 for 265 yards and 2 touchdowns, put the Bucs ahead with 46 seconds left on a 14 yard touchdown to tight end Cade Otton. But, C.J. Stroud proved to be too much as he threw for five touchdowns and a rookie-record 470 passing yards to secure the win for the Texans.
Buccaneers running back Rachaad White rushed 20 times for 73 yards and 2 touchdowns while also adding 4 catches for 46 yards receiving. Wide receiver Mike Evans led the Bucs in receiving with 4 catches for 87 yards on 5 targets.
While the game made for fun TV, the Tampa Bay defense were gashed for 496 total yards of offense by the Texans, 443 passing and 53 rushing. They recorded one turnover and three sacks. The Buccaneers weakness on defense is their secondary and that reared its ugly head Sunday as they allowed three receivers to go over 100 yards and at least one touchdown. Wide receiver Noah Brown with 153 yards and a touchdown, tight end Dalton Shultz with 130 and a touchdown, and wide receiver tank dell with 114 and two touchdowns.
The Matchup
All-time the Titans and the Buccaneers have played 12 times, all in the regular season. The Titans hold the advantage 10 games to 2 and currently hold a three-game win streak over the Bucs. On the road at Raymond James Stadium in Tampa Bay, the Titans are 2-1. This season, Tampa Bay has struggled at home as they are 1-3 at home, but the Titans have yet to win a road game in 2023.
The Titans bring a new look offense to Tampa under rookie quarterback Will Levis, who has pure arm talent and has already shown he can handle the NFL pressure. Levis, in two full games, has made smart decisions with the football and has shown great pocket awareness when the pocket breaks down. This week against the Buccaneers, he will face another tough defensive front known to sack the quarterback led by edge Shaquil Barrett and defensive tackle Vita Vea. With the sudden emergence of wide receiver Kyle Philips helping out in the slot, he provides a crucial weapon to Levis when he needs to quickly get rid of the ball. With the injuries suffered on the offensive line for the Titans, some new faces could get the start such as Dillon Radunz and rookie Jaelyn Duncan.
This game provides a key matchup at running back on both teams, Rachaad White for Tampa and Derrick Henry for Tennessee. White is a versatile back that can hurt you through the run game and passing game. Henry seems to be getting better through each week but needs more touches to make more of an impact. The Titans are 3-0 when he receives more than 20 rushes and 0-4 when he receives less.
For the defense, the Titans are getting back corner back Roger McCreary this week and will be a big help against the Bucs big two at receiver in Mike Evans and Chris Godwin. The Titans pass rush has been a non factor the last few road games and needs to show up Sunday if they want to secure their first road win.
The Buccaneeers secondary can be exploited, just look at last week against Houston allowing 470 yards passing. Will Levis and his arm talent can take it back to their matchup with Atlanta as he found the end zone four times. This game screams DeAndre Hopkins.
Offense Rankings
| | | | | |
| --- | --- | --- | --- | --- |
| Team | Yards/Game | Rush Yards/Game | Red Zone PCT | Points/Game |
| Titans | 302.0 (23rd) | 114.5 (12th) | 34.62% (31st) | 18.5 (24th) |
| Buccaneers | 302.5 (21st) | 78.3 (30th) | 50.00% (19th) | 19.8 (21st) |
Defense Rankings
| | | | | | |
| --- | --- | --- | --- | --- | --- |
| Team | Yard/Game | Rush Yards/Game | Pass Yards/Game | Red Zone PCT | Points/Game |
| Titans | 337.8 (20th) | 114.8 (19th) | 223.0 (16th) | 36.67% (4th) | 20.0 (11th) |
| Buccaneers | 372.3 (29th) | 92.9 (8th) | 279.4 (31st) | 34.62 (2nd) | 20.9 (16th) |
Game Information
Tennessee Titans @ Tampa Bay Buccaneers
Time: November 12 @ 12:00 PM CDT
Location: Raymond James Stadium (Tampa, Florida)
TV Broadcast: CBS (News Channel 5 locally)
TV Broadcast Crew: Andrew Catalon, Tiki Barber, Matt Ryan, AJ Ross
Radio: Titans Radio (104-5 The Zone)
Radio Broadcast Crew: Mike Keith, Dave McGinnis, Ramon Foster, Rhett Bryan
Referee: Alan Eck
Line: TB -1.5
Over/Under: 38.5
Things To Watch
Titans O-line vs. Bucs D-line
With the Titans offensive line a little banged up and the five starters unclear to this point, the Titans offense could have a rough go of it against the Bucs front seven led by edge Shaquil Barrett, defensive tackle Vita Vea, and linebacker Devin White. Will Levis was sacked 4 times last week in Pittsburgh, but made smart decisions when pressured. The battle of the trenches will be a big factor Sunday.
Will Levis Success on the Road?
The Titans have yet to find a way to win on the road, but Will Levis' first road game for the Titans last week proved that he may the right guy for the job despite a close loss in Pittsburgh. With 10 days of preparation for Tampa, the Titans need to correct their red zone efficiency, where they convert at 34.62% for 31st in the league, and score. The Titans offense is noticeably different and more exciting under Levis, and they'll need more of that if they want their first road win of 2023.
Is Kyle Philips Reliable?
Second year wide receiver Kyle Philips has been out of the lineup quite a bit due to injury in his short time with the Titans. When he has been in, he has been consistent in the wrong way with fumbling punt returns. However, last Thursday he proved to be a big piece on offense in the slot. If he can stay off of punt return and focus on being a receiver, is he reliable? 4 catches for 68 yards last week in Pittsburgh with 2 of his catches coming clutch in the fourth quarter. Will Levis and the Titans will need more from him this week to take the pressure of DeAndre Hopkins and Titans receiving group who will be without Treylon Burks this week.
Will The Real Titans Pass Rush Please Stand Up?
In the Titans last three road games, including their game in London, the Titans have managed to sack the quarterback just twice combined. The Titans defensive front has a lot of money tied into it, but are not receiving the success. This is as good a week as any to get back on track and force Bucs quarterback Baker Mayfield into pressure and bad decisions, which he has not done a lot this season.
Derrick Henry Over 20 Rushing Attempts
In each of the Titans road games, including London, running back Derrick Henry has rushed under 20 attempts and each resulted in a loss. The Buccaneers are solid against the run allowing 92.9 yards/game, but I would like to see the Titans feed the king more and see how the offense fares. Run Henry over 20 attempts and the Titans may win their first road game.
Did You Know?
With 64 rushing yards against the Tampa Bay Buccaneers, Derrick Henry can become the 38th player in NFL history to record 9,000 rushing yards. Furthermore, he could become just the 8th player in NFL history to record 9,000 rushing yards and 80 touchdowns before his 30th birthday. He currently sits at 8,936 rushing yards and 82 touchdowns.
The Titans defense totals three sacks and four takeaways. Ryan Tannehill's third touchdown pass was the go-ahead eight-yard touchdown strike to rookie A.J. Brown in the fourth quarter, capping a 90-yard drive. Mike Evans (11 receptions, two touchdowns) recorded 198 of Jameis Winston's 301 passing yards for the Buccaneers. Winston was intercepted by cornerbacks Malcolm Butler and Logan Ryan, the latter of which sealed the outcome in the final 30 seconds.
With a win Sunday, Titans rookie quarterback Will Levis could become just the third rookie quarterback to win his first two of three starts in the Titans/Oilers franchise history. He would join Jacky Lee (1960) and Brent Pease (1987 replacement game).