By: Justin Hawkins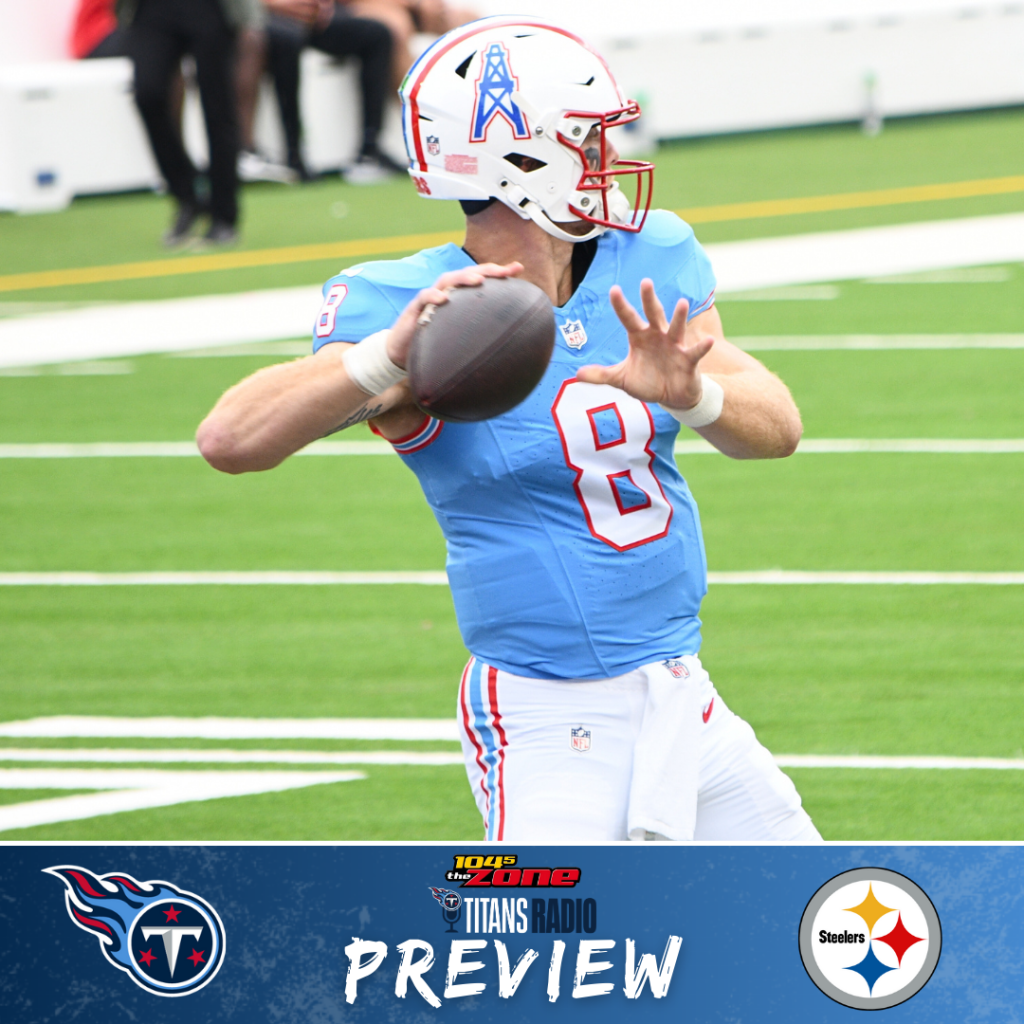 "A lot of fun. Like I've been saying, it's the game I love and there's nothing better than winning a football game." – Titans quarterback Will Levis on his NFL debut
Rookie quarterback Will Levis gets his first NFL start and first NFL win as the Tennessee Titans stay undefeated at home this season beating the Atlanta Falcons 28-23. But, the Titans (3-4) have a short turnaround as they prepare for a primetime Thursday Night matchup in Pittsburgh as they face the Steelers (4-3).
Last Time Out
Tennessee
The Tennessee Titans were without starting quarterback Ryan Tannehill Sunday, but it played no factor as rookie quarterback from Kentucky Will Levis shined bright in a 28-23 win over the Atlanta Falcons.
After not seeing Levis but once in the preseason due to an injury, he got the start Sunday over Malik Willis. It's safe to say after completing 19-29 passing attempts for 238 yards and four touchdowns, Levis earned his role in the Titans locker room. Levis' debut made NFL history as he became just the third player to throw four touchdown passes in his debut. Former Titan Marcus Mariota is on the list as well with his four touchdown performance against the Tampa Bay Buccaneers in his 2015 debut. Levis played well over expectations and elevates hope for what the future for the Tennessee Titans could look like. Levis has a big arm that can launch it downfield. That was evident on all four of his touchdowns with three going to DeAndre Hopkins (his first touchdown(s) as a Titian) for 47, 16, and 61 yards, and also completed a 33 yard touchdown pass to Nick Westbrook-Ikhine. Now, let's pump the brakes on Levis as this is just one game and had two weeks to prepare.
Titans HC Mike Vrabel kept his promise that he would play both Levis and Malik Willis, but Willis only saw the field for a few plays. It was evident after Willis' first snap Sunday that resulted in a lost fumble from mishandling the snap that this was going to be Will Levis' game. The Titans fans certainly felt the same thing as boo's rained down when Malik Willis entered the game. However, it was not received well from the players.
"He's a part of this team. It doesn't help being boo'd when you are just trying to go in there and make a play. I feel that is not needed for somebody that's coming in to help us win."
-Titans RB Derrick Henry
Willis would go on to have just 2 carries for 4 yards in the game.
Running back Derrick Henry had 22 carries for 101 yards. His game further extends the Titans to 3-0 this season when Henry has over 20 carries in a game.
Switching to the defensive side of the ball, it was a tale of two halves. The Titans allowed just three points and recorded five sacks, with one of the sacks causing a fumble and recovery by the Titans. But, in the second half, Atlanta was able to score 20 points including a 13 yard touchdown run from Bijan Robinson to start the fourth quarter. Atlanta wouldn't go away and the Titans struggled to create the same pressure as the first half as they had just one sack. For the third straight game, the Titans surrendered over 100 yards rushing, but Robinson led the way for the Falcons with 62 yards on the ground.
Pittsburgh
The Pittsburgh Steelers ran into a hot Jacksonville Jaguars team as they lost 20-10 at home. It was a sloppy game that saw five turnovers between both teams with the Jags having three and the Steelers with two. Perhaps the biggest loss for the Steelers Sunday came late in the first half when quarterback Kenny Pickett left with a rib injury as he took a big hit to the torso from Jags defensive end Adam Gotsis. With Pickett, the Steelers only scored 3 points in the first half.
Insert backup quarterback Mitch Trubisky, and things did not go much better. Trubisky went 15/27 for 138 yards one touchdown and two interceptions to go along with it. The Steelers also could not get much going on the ground as they ran for just 70 total yards. Starting running back Najee Harris had just seven carries for 13 yards. In the receiver room, the Steelers are led by fifth year man Diontae Johnson and second year man George Pickens. Johnson had eight catches for 85 yards and Pickens had just one catch on five targets for 22 yards and the Steelers lone touchdown on the day.
The Steelers defense are known for limiting opposing offenses and they did their best Sunday.
They intercepted Jags quarterback Trevor Lawrence once and recovered two fumbles. While Trevor Lawrence was solid passing going 24/32 for 292 yards and a touchdown, along with his interception, the Steelers were decent against the run allowing just 106 yards on the ground led by Travis Etienne Jr. who had 79 yards.
This game had just two touchdowns combined by each team and the rest were field goals.
The Matchup
Head-to-head the Steelers lead the Titans 48-32 in 80 overall meetings, but Pittsburgh has won the last four dating back to 2014. The last win against the Steelers for the Titans came September 8, 2013 as the Titans beat the Steelers 16-9.
The Titans enter this primetime Thursday Night matchup with a crucial win behind rookie quarterback Will Levis. Starting quarterback Ryan Tannehill will be out of this matchup as well, so you can expect Levis to start yet again. Levis will certainly have his work cut out for him as he tries to lead the Titans to their first road win of the season.
For Levis, it is easy to get excited for his debut because he made history, and fans certainly should be excited. But, let's pump the brakes as it is just one game and had two weeks to prepare. This weeks matchup will provide a great test as Levis now has tape on him for defenses to study and has just three days of preparation. 
The Titans are 3-0 this season with Derrick Henry having 20+ rushing attempts.
With DeAndre Hopkins having the game most were waiting for, he provides a tough matchup for the Steelers to cover.
The Steelers could be without starting quarterback Kenny Pickett, so that is a situation certainly to monitor. Mitch Trubisky will be the starter if Pickett cannot go. He has yet to practice this week. Steeler wide receivers Diontae Johnson and George Pickens provide a tough test for Kristian Fulton and company who could be without Roger McCreary for the second straight game with a hamstring injury. Both Johnson and Pickens have big play ability and can take the top off of defenses.
For the Steelers defense, they are known to be stout and limit the opposing offense. They are 11th in the league in sacks with 22. They are tied for 7th in the league in interceptions with 7. They lead the NFL in forced fumbles, 7, and are tied for 2nd in the league in fumbles recovered with 13. They are led by 5-time Pro Bowler T.J. Watt who can get after the quarterback and blow past offensive lineman as good as anyone. The Titans offensive line need to bring their A-game if they want to keep Levis upright.
Both the Titans and Steelers know how to keep the score low, so this game might come down to a field goal battle. Titans kicker Nick Folk has been a perfect 16/16 this season and needs just one field goal within 40 yards to make NFL history, so he is someone to watch for this week.
Game Information
Tennessee Titans @ Pittsburgh Steelers
Time: November 2 @ 7:15 PM CT
Location: Acrisure Stadium (Pittsburgh, PA)
TV Broadcast: Amazon Prime Video / News Channel 5 (local)
TV Broadcast Crew: Al Michaels, Kirk Herbsteit, Kaylee Hartung
Radio: Titans Radio (104-5 The Zone)
Radio Broadcast Crew: Mike Keith, Dave McGinnis, Ramon Foster, Rhett Bryan
Referee: John Hussey
Line: PIT -3
Over/Under: 36.5
Things To Watch
Will Levis Not A Fluke
The Titans rookie quarterback was mighty impressive Sunday in his NFL debut throwing for 238 yards and four touchdowns with no turnovers. But, the question is can he do it again? What could be overlooked is some of the throws he made behind the receiver or not checking the ball down when he had a guy in the flat. With not much time to prepare, I am looking for Will Levis to see if he can continue his success, especially with DeAndre Hopkins.
Stopping TJ Watt and the Steelers Pass Rush
The Steelers have an elite pass rush led by T.J. Watt, and the Titans have one of the weaker offensive lines in the league. Titans right tackle Chris Hubbard exited Sunday's game against the Falcons with a concussion and will not play this week. Andre Dillard subbed in and held his own. It will be a tough task for this offensive line to stop the Steelers defense.
DeAndre Hopkins Is Here
DeAndre Hopkins finally scored a touchdown in a Titans uniform in his eighth game with the club. Not only did he score one touchdown, but he had three. The Levis to Hopkins connection was magic in the making causing Hopkins best game this season. For the Titans to win their first road game of the season, this connection will need to be alive and well once more. Heading into this week, Hopkins has an opportunity to do something no other player has done for the franchise in its "Titans era," which began in 1999. With 96 receiving yards Thursday night, he will become the first member of the club in the Titans era to post 600 receiving yards through the team's first eight games of a season. Derrick Mason's 599 receiving yards in 2004 stands as the best such total. Hopkins' current receiving yardage total already ranks fifth on the list through eight games with 504.
Did You Know?
In 20 primetime games Derrick Henry averages 95.7 rushing yards per primetime game, including the regular season and postseason. That is the best mark in the NFL since the beginning of the 2000 season among those who have appeared in at least 10 primetime games. His number is more than seven yards in front of the next-closest competitor, former Colts running back and Pro Football Hall of Famer Edgerrin James (88.5).
Nick Folk enters the game with a streak of 70 consecutive field goals made on attempts from less than 40 yards, tying the NFL record first set by Justin Tucker. Folk will break the record by making his next field goal attempt from under 40 yards.
The Titans play on Thursday this week for the 27th time in franchise history. The team enters the game with an all-time record of 13-13 on Thursdays. More specifically, the Titans own an 8-11 all-time record in Thursday primetime games. They are 7-5 at home on Thursday nights and 1-6 on the road. In 2022, the Titans had two Thursday primetime games for the first time in franchise history. They split the games, defeating the Packers at Green Bay (Nov. 17) and losing at home to the Dallas Cowboys (Dec. 29). This week marks the fifth time the Titans have played the Steelers on a Thursday night.