By: Justin Hawkins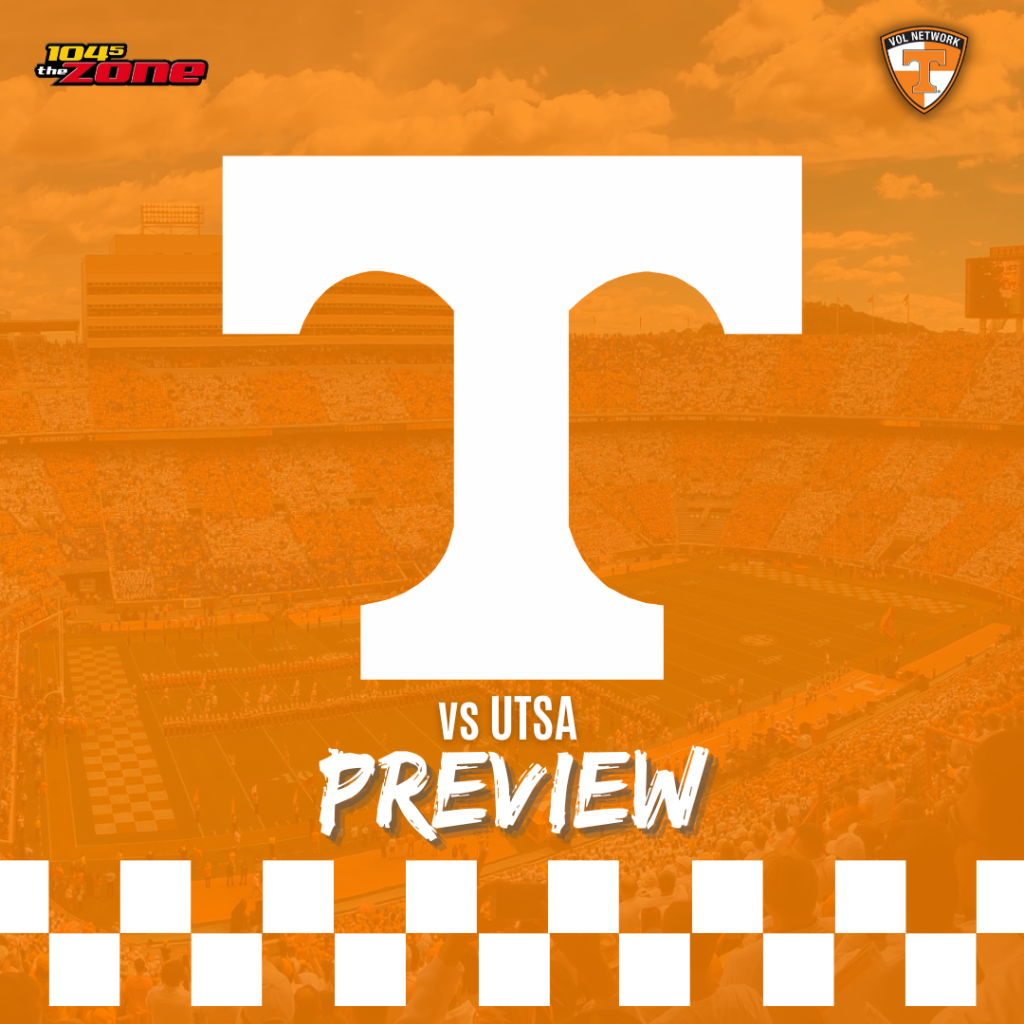 The demise in the Swamp continues and the Tennessee Volunteers lose for the first time this season 29-16 to the Florida Gators. The Vols (2-1) will now try to right the ship as they head back home for a matchup with the UTSA Roadrunners (1-2) on Saturday.
Last Time Out
Tennessee
There is no sugar coating it when it comes to the Vols loss Saturday night in Gainesville, Florida. Tennessee did not match the intensity that the Florida Gators brought and it has been a trend ever since 2003, the last time the Vols saw a win in the Swamp. Tennessee also suffered from self-inflicted wounds against the Gators. From penalties (10), to missed tackles, to Joe Milton's inconsistencies, Tennessee went through it all in a game they probably "should have" won handily. On paper, Tennessee had the better team, but the mental aspect of the game almost had just as much to do with it, and I felt Tennessee was not ready for the hostile environment of the Swamp and the competition that was to take place. The stadium was electric and as loud as Tennessee has seen in a good while. The offensive line for the Vols was a direct result of that as they had 5 false start penalties called throughout the game.
"The pre-snap penalties killed us." -Josh Heupel
Other than an early score to give Tennessee the only lead they saw and a late 55-yd touchdown to Bru McCoy in the 4th quarter, this one was all Florida. Joe Milton proved that he cannot be relied upon week in and week out. His inconsistencies was on full display as he showed he can hit the deep ball on point, overthrow his receiver, and also throw the ball into the dirt. He also threw his first interception while wearing white and orange. This interception was an overthrow to his receiver and ended up being returned for 39 yards. The days of Hendon Hooker and a reliable Tennessee offense could be in the past. But, this is not to say the Vols cannot figure it out. However, through three weeks, it is not looking great.
On defense, the Vols let an inexcusable 62-yd touchdown run from Trevor Etienne happen in the first quarter. Tennessee cornerback Kamal Hadden gave Etienne a soft shoulder around the 40 yard line as the last defender that made no impact to stopping the run. The bad/missed tackles in this game should not happen from a top ranked SEC football program.
Now, on the other side, you cannot forget that Florida did play as solid a game as they could. Junior transfer quarterback Graham Mertz was efficient as he went 19/24 for 166 yards and a touchdown as well as adding a goal line touchdown in the second quarter. On the ground, the Gators had their way with rushing for 183 yards. Sophomore running back Trevor Etienne had 172 of them and added a touchdown. The Gators could not be matched and prove too much for a Volunteer team seemingly still trying to figure themselves out.
More self-inflicted wounds took place that will carry over to this Saturday. Vols defensive lineman Omarr Norman-Lott, a transfer from Arizona State, won't play in the first half against UTSA after being suspended for throwing a punch at a Florida player. Three Florida players have also been suspended for the first half of the Gators' next game.
Now the Vols fall from the number 11th ranked team in the country to number 23 enter this week.
UTSA Roadrunners
The University of San Antonio Roadrunners Football program lost their second of the season Saturday to Army 37-29. UTSA allowed two 100-yd rushers against Army in Sophomore running back Hayden Reed (107) and Junior quarterback Bryson Daily (100) and each had a touchdown. This is just part of the 442 total yards allowed by the Roadrunner defense. UTSA Sophomore quarterback Eddie Lee Marburger stepped in for injured senior quarterback Frank Harris and threw for an impressive 17/26 239 yards and 3 touchdowns. Senior wide receiver Joshua Cephus caught 8 balls for 84 yards and a touchdown.
The Matchup
The Tennessee Volunteers and UTSA Roadrunners meet for the first time in their history. UTSA will come into Neyland Stadium this Saturday as an obvious underdog, but they come in one that should not be overlooked by this Vols team. If you look back to a couple of weeks ago and how the Vols struggled early against Austin Peay, then you could see a similar result this Saturday. UTSA is a hardworking team with experience that can lead the team to success. The Roadrunners come off a 11-3 season last year and return seniors quarterback Frank Harris, wide receiver Joshua Cephus, and linebacker Donyai Taylor. If the Vols come out shaky yet again this game will be closer than the 20.5 point spread says. One thing that will be important to note is if starting quarterback Frank Harris will play or not. As of now, Harris is listed as day-to-day and questionable for the game. 
UTSA HC "There's just no way you're going to keep a kid like Frank Harris off the football field if he's 100%."
A guy that has started three seasons for the Roadrunners knows a thing or two about their team and brings all the experience that can challenge a struggling Tennessee Volunteers team.
For Tennessee, Joe Milton and the offense need a reset and this game could come at the right time. It is a quick break before the bulk of SEC play is in full effect. The time is now to get the offense under control and on the right track. For a team that can play as fast as any other team and score as quick as any other team, Tennessee should play into their strengths in this one with establishing the run game and allowing the passing game to follow suit.
Game Information
UTSA Roadrunners vs. #23 Tennessee Volunteers
Game time: September 23 @ 3:00 PM CDT
Location: Knoxville, TN (Neyland Stadium)
TV Broadcast: SEC Network
TV Broadcast Crew: Dave Neal, Derek Mason, Taylor Davis
Radio: Vol Network (104-5 The Zone)
Radio Brodcast Crew: Bob Kesling, Pat Ryan
Line: TENN -20.5
Over/Under: 59
Things To Watch
Joe Milton III
Over the first three games of the season, senior quarterback Joe Milton has showed nothing but inconsistency. At times, he showed why he could be one of the better quarterbacks in the nation. But, other times he shows how he does not know how to effectively use his arm talent. There is no doubt that he can throw the ball a far distance. But his accuracy has been thrown into question time and time again with no real answer to the question in sight. This Saturday I am looking for a little bit of a reset and settle into his role in this offense. I expect several passing plays to be drawn up and get the likes of Bru McCoy, Squirrel White, and Ramel Keyton to be featured.
Discipline
Pre-snap penalties were a set back on five Tennessee drives on offense. The offensive line was missing senior center Cooper Mays, a game-time decision, yet again against Florida and seems to be missing experience. Mays should play this weekend barring a setback and I would expect discipline is a premium topic this week in practice. If Tennessee can avoid the self-inflicting wounds this week, that is step one into improvement.
Offensive Rhythm
I have mentioned reset a couple times, and now I will mention it once more. This team after a struggling start to the year and losing against Florida should make Tennessee sit back and try to reset as they look to bounce back against UTSA this week. On paper, this Vols offense can be elite. With a supposed solid quarterback, skillful receivers, and a deep running back room, the Tennessee offense should be one of the top in the country. Yet, they have struggled to a point and looking for a breather. This game could be that breather and allow the offense to just be. Play smart, play fast, and play Tennessee.
Tackling
Missed tackles on defense were an eye sore against Florida, specifically, Kamal Hadden's shoulder bump on a 62 yard touchdown run in which he showed little to no effort in making the tackle. Let's get back to fundamentals here and make solid tackles by using the fundamentals they were trained on. With the bulk of SEC play approaching, missed tackles will only continue to bite them in the butt.
Take this game serious and get out with a solid win and prepare for a tough game at home against South Carolina who just put up a solid fight against Georgia this past week.
Tennessee Volunteers and 104-5 The Zone
Join 104-5 The Zone's 3HL as we broadcast live from Scoreboard Bar & Grill at Cedar Creek this Friday September 22nd! Stop by as we officially kickoff the football weekend at Scoreboard Bar and Grill and while you are there, sign up to win Tennessee tickets and try to beat Brent and Slay's picks of the week for your chance to win $250 in tickets and prizes from Scoreboard Bar & Grill!
Follow along with 104-5 The Zone for all the latest news and info on Twitter/X @1045TheZone.
Vol Network coverage of Tennessee vs UTSA begins at 4:00 PM CDT on 104-5 The Zone!