By: Justin Hawkins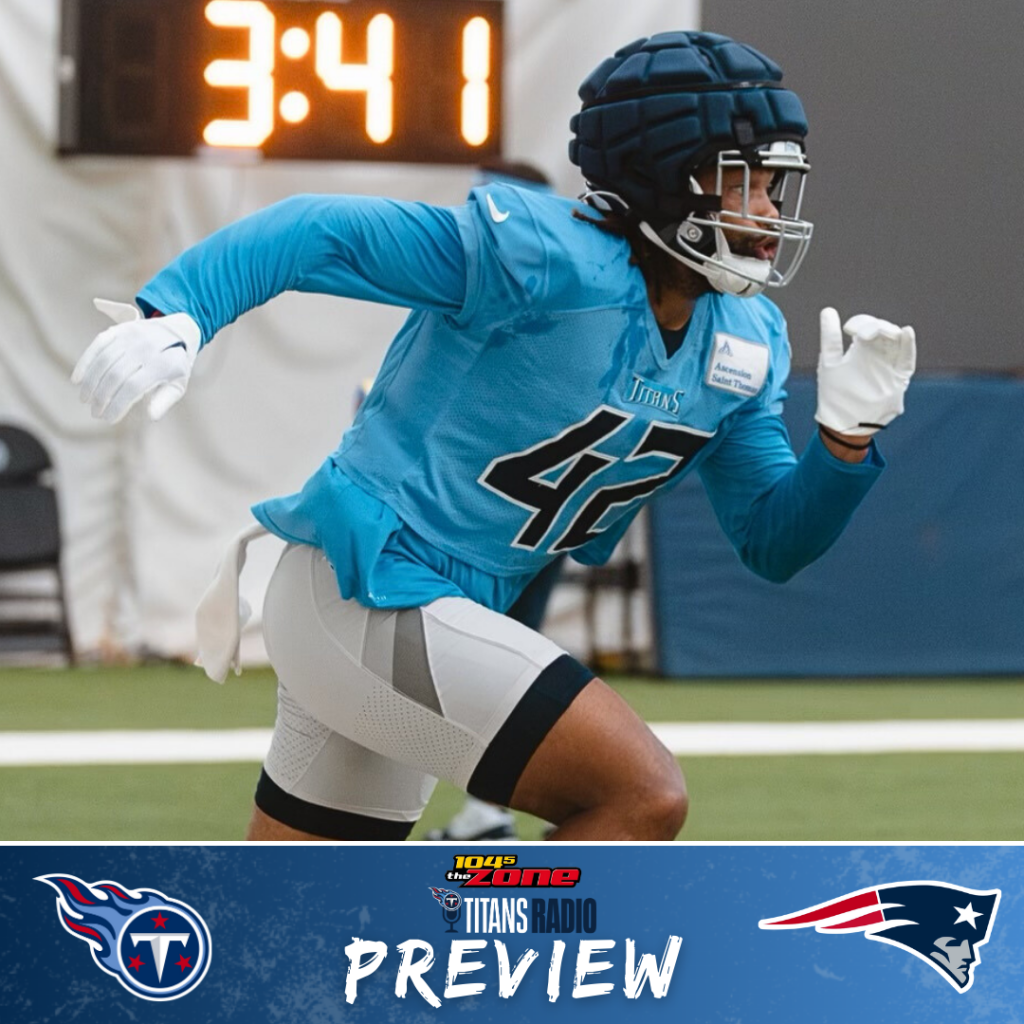 "Alexa, play 'The Boys Are Back In Town'."
The Tennessee Titans (1-1) conclude the NFL preseason with a final dress rehearsal at home against AFC East rival New England Patriots (1-1).
Both teams enter the final preseason game with road victories last week. The Titans traveled up to Minnesota to face the Vikings where they rushed their way to a 24-16 victory. Meanwhile, the Patriots secured their first preseason win after their game in Green Bay against the Packers was suspended in the fourth quarter, ending 21-17.
The Titans, once again, rested their starters and let their position groups battle it out for spots on the roster.
One position group that has proved their worth seems, undoubtedly, to be the running backs. Tyjae Spears, in his second preseason game, flashed his big play ability by a 33-yard rushing touchdown in the first quarter helping him to an impressive 7 carry 57 yard stat-line. The other star of the day was second-year undrafted running back out of Sacred Heart University, Julius Chestnut. Chestnut carried the ball 13 times for 98 yards and found the endzone twice, once through the air and on the ground. The depth behind 3-time pro bowler, Derrick Henry, is looking bright.
However, as the preseason goes on, you expect to see questions about the roster start to be answered. This past week, though, a couple spots still leave you scratching your head.
Rookie quarterback Will Levis left practice last Thursday with a lower body injury and did not play in their preseason game Saturday which left the job solely to second-year quarterback Malik Willis. This was Willis' time to shine, but going 10/17 for 85 yards with a touchdown and an interception did not answer the questions some had hoped for. The 11 rush 91 yards did show his dual threat ability, however. The backup quarterback spot is Willis' currently, but, perhaps, it is by default due to Levis' injury.
The other position group with questions is the wide receiver position. Last week, we talked about the wide receiver depth as something to watch for. What we learned is that position is being heavily tested. Injuries have already reared its ugly head and training camp is not over yet. Second year wide receiver out of Arkansas, Treylon Burks left practice last week to an LCL, lateral collateral ligament, sprain in his left knee. He is expected to miss 3-6 weeks. Also, both second-year receiver Kyle Philips and rookie receiver Kearis Jackson left the game with knee injuries. Philips was confirmed with an MCL, medial collateral ligament, sprain.
As the Titans host the Patriots this Friday, they will look to stay in the win column and away from the injury list. The Titans were originally scheduled to host the Patriots in joint practice, but the two sides agreed on canceling due to an injury sustained by Patriots' Isaiah Bolden Saturday night left him hospitalized. The Titans will practice as normal this week at St. Thomas Sports Park.
The Tennessee Titans hold a preseason series lead 6-1 all-time against the New England Patriots. The last time the two sides faced in preseason was week two in 2019 as the Patriots claimed the victory 22-17.
The Titans have yet to trot out a starting lineup this preseason outside of their starting offensive line, and Chig Okonkwo. It has not been determined yet if the Titans will do so this week. If the Patriots follow suit and put their backups on the field, you can expect quarterback Bailey Zappe to get the start.
Game Information
New England Patriots (1-1) @ Tennessee Titans (1-1)
Game Time: August 25 @ 7:15 pm CDT
Location: Nashville, Tennessee (Nissan Stadium)
TV: Titans Preseason TV Network (WKRN-News 2 Nashville) / NFL Network
TV Broadcast Crew: Paul Burmeister, Charles Davis, Cory Curtis
Radio: Titans Radio (104-5 The Zone)
Radio Broadcast Crew: Mike Keith, Dave McGinnis, Ramon Foster, Rhett Bryan
Referee: Brad Rogers
Line: New England -2.5
Over/Under: 38.5
Things to Watch
OLB Caleb Murphy
Head coach Mike Vrabel and the Titans coaching staff preach consistency and toughness. That is just what the Titans are getting out of rookie undrafted edge rusher out of Ferris State, Caleb Murphy. The Titans took a flyer on Murphy who comes from a Division II program where all he did was set the single-season sack record for all NCAA divisions with 25.5 in 2022. Murphy is now showing that motor and drive wearing the number 42 in two-tone blue. So far, he has accumulated three sacks, two against Minnesota, seven tackles and the eye of Mike Vrabel. Postgame Saturday, Vrabel told the media "He's shown an ability to win." With the final test Friday night before roster cuts next week, Murphy needs to keep the consistency and toughness going to make his case for a spot on an already deep outside linebacker group.
Kicking Into Uncertainty
Is the kicking battle between Caleb Shudak and Trey Wolff over? The answer is yes. Even though neither Shudak nor Wolff missed a field goal attempt/extra point Saturday night in Minnesota, it was not enough for the Titans coaching staff. Tuesday morning, the Titans signed veteran kicker Michael Badgley and, in turn, released both Shudak and Wolff. Badgley was the Detroit Lions' kicker last season, and this year signed with the Washington Commanders before losing a training camp battle with Joey Slye. With just Badgley on the Titans roster, all eyes will be on him Friday night with hopes of avoiding the continuation of kicker carousel that started in 2019, which Badgley did take part in during the 2021 season. Will his second stint in the two-tone blue work out?
Ball Security
The first preseason game saw the Titans turn the ball over four times, would have been five if Malik Willis did not recover his own fumble. Last week, the Titans improved to two turnovers, but it would have been three if, again, Willis did not recover his own fumble. Taking care of the football is one of Mike Vrabel's pet peeves, so I am sure he is not happy with six turnovers in two games. Yes, it is just preseason. And, no the starters have not played. But, it is about the premise of keeping the ball in the right hands. Going into this week needs to be a strong focus for the offense against a Patriots team that is known for quality defense.
Will Levis
With Will Levis not in the lineup last week, we could not see the potential improvement from weeks one and two. Reports of his injury do not seem to be serious, but Levis did not take part in Tuesday's practice outside of the stretching period. Nonetheless, it will be crucial for him to prove his worth during the final showcase before it's Ryan Tannehill's time. Given Levis was the Titans second round pick this year, you can expect him to be on the roster but as the third quarterback behind Malik Willis. The backup quarterback job is still up for grabs and a strong showing from the Kentucky Wildcat product could prove vital.
Injuries
It's the same old story for the Titans as injuries become a hinderance. This week, Tennessee needs to be focused on getting through practice and the game against New England healthy in order to prepare for the season opener in New Orleans on September 10th. I mentioned earlier about Treylon Burks missing time and now the injuries to Kyle Philips and Kearis Jackson. The wide receiver room cannot take much more of a hit.
Did You Know?
The Tennessee Titans hold an impressive 11-7 edge over the New England Patriots all-time when playing at home. The last time New England visited Nashville in the regular season, the Titans, led by quarterback Marcus Mariota, trampled the Tom Brady led Patriots 34-10 week ten in 2018. Mariota threw for 228 yards and two touchdowns to tight end Jonnu Smith and wide receiver Corey Davis. Davis tallied 7 catches for 125 yards. Derrick Henry also found the end zone twice. The Titans defense shut out the Patriots offense in the second half and held Tom Brady to a 70.6 passer rating in the game.
Through 5 preseason games, second-year running back Julius Chestnut has amassed 250 rushing yards and 3 touchdowns as well as 38 receiving yards and a touchdown. Players like Chestnut is what the preseason is made for. Saturday night in Minnesota, he proved that. With another successful training camp and preseason, Julius Chestnut seems to be on his way to making the 53-man roster for the second straight year as the third running back.
The last time the Titans and the Patriots met in the preseason was week two at Nissan Stadium where New England topped Tennessee 22-17. The Titans were led in this game by starting quarterback Ryan Tannehill who threw for 84 yards and a touchdown on 7/11 passing. Marcus Mariota also threw a touchdown in that one. The Titans leading rusher was Alex Barnes, a Kansas State Wildcat product, who rushed for 42 yards. Their leading receiver with 3 catches for 42 yards was tight end Cole Wick. Neither Barnes nor Wick made the roster in 2019.