The Midday 180
(Monday-Friday 12:00pm-3:00pm)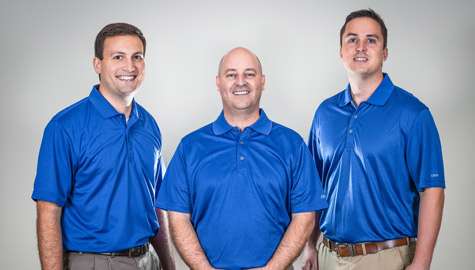 104-5 The Zone's newest addition to the on-air lineup brings Titans Radio's Jonathan Hutton, long-time afternoon producer Chad Withrow and ESPN.com's Paul Kuharsky together to speed up your afternoon at work.
Like Midday 180 on Facebook and follow Midday 180 on twitter @Midday180.
The Midday 180 is Served Up by Wendy's! Sign up for Wendy Mail to have coupons and special offered delivered to your inbox!

---
Here's What's Happening with Midday 180!
---
---
We have a blast at our Eat & Greet Events at Wendy's! We love seeing you tweet us pictures of what you're eating at Wendy's. Make sure you include @Midday180 & @Wendys!

Right now, we are enjoying the new Jalapeno Fresco Chicken Sandwich!
Tweet us & tell us your favorite Wendy's combo meal for your chance to win lunch on us!
---
Jonathan Hutton – Midday 180

An 8-year veteran of Tennessee Titans coverage in the mid-south, middle Tennessee native Jonathan Hutton officially joined 104.5 The Zone as co-host of "The Midday 180" in January of 2012. Hutton previously worked for seven seasons as Network Producer for Titans Radio, joining Mike Keith, Frank Wycheck and Larry Stone in the summer of 2005 as a participant in the network's Internship program. He quickly showed an ability to go beyond the obvious stories and a knack for interviewing. Hutton helped shape the themes heard in the award-winning pregame show "Titans Countdown" each week, as well as the stories covered at TitansRadio.Com.
Chad Withrow – Midday 180

Chad Withrow has spent the last 7 years with 104-5 The Zone, and is part of The Midday 180. Born and raised in Mt. Juliet, TN, Chad knew he wanted to work in sports at a very young age. Chad is known for his common sense approach to sports talk and his in depth knowledge of University of Tennessee and SEC sports as well as being one of the state's top High School football voices.
Paul Kuharsky – Midday 180
Paul Kuharsky's an award-winning writer who's covered the NFL for over 15 years in California, Texas, and Tennessee. After earning two degrees from Columbia University, he covered the 1995 Raiders for the Oakland Tribune. He then joined The Tennessean to chronicle the final season of the Houston Oilers and the franchise's relocation to Nashville. Kuharsky covered the Oilers/Titans and the league for the paper for a dozen years before joining ESPN.com in 2008 to blog about the AFC South. He was a regular contributor to The Wake Up Zone since shortly after the show's inception. The New Jersey native lives in the West Meade area of Nashville with his wife and son.