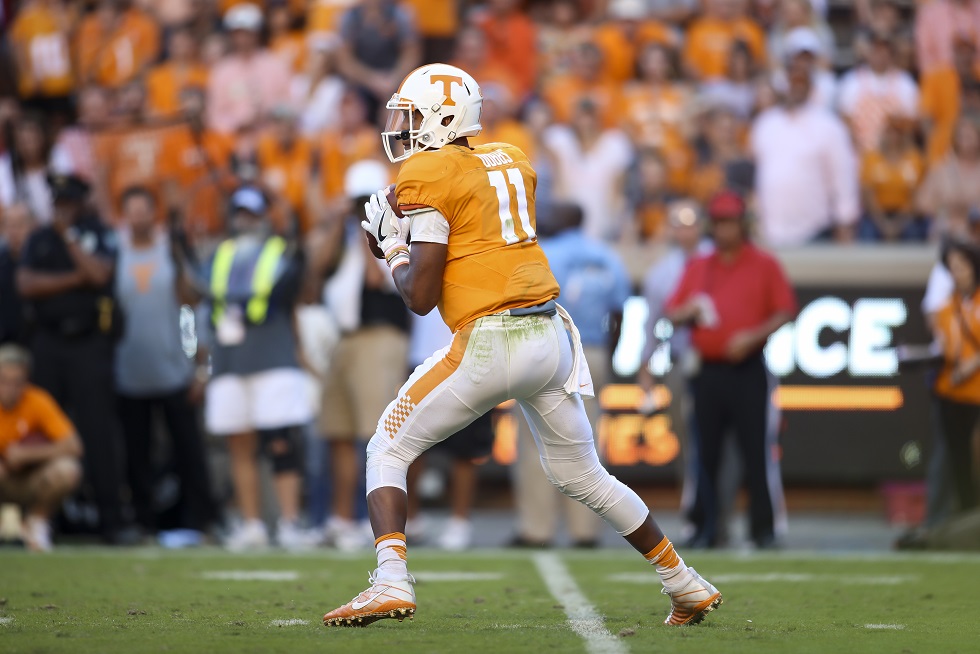 Get to know our first speaker, former UT Vols QB, Josh Dobbs as he will take part of our Planet Fitness Speaker Series at this year's Sports Fest!
    Joshua Dobbs was born and raised in Alpharetta, GA and played quarterback for Alpharetta High School where as a senior, he threw for 3,625 yards and 25 touchdowns. Dobbs was considered a 3 star recruit by rivals.com and a 4 star recruit by scout.com. Dobbs originally committed to attend Arizona State University, but changed his commitment to the University of Tennessee in early 2013 to play quarterback and major in Aerospace Engineering.
    As a true freshman, the 6'3, 210 lb quarterback played in 5 games with 4 starts and finished the year with 72 completions for 695 yards, 2 touchdowns and 6 interceptions, he also ran for 189 yards and a touchdown. In 2014, Dobbs competed for the starting quarterback position, but did not get the starting role until November after an injury to starting quarterback Justin Worley. Dobbs finished his sophomore year with 112 completions for 1,206 yards, 9 touchdowns, 6 interceptions, with 469 rushing yards and 8 rushing touchdowns. In 2015, Josh Dobbs was named the starting quarterback for the Volunteers and finished the year with 204 completions for 2,291 yards, 15 touchdowns, 5 interceptions and rushed for 671 yards with 11 rushing touchdowns, he also caught a pass for 58 yards and a touchdown. Dobbs also help take the Vols to the TaxSlayer Bowl in 2015 where they defeated the Iowa Hawkeyes 45 to 28 and was named the bowl MVP. As a senior, Dobbs completed 225 passes for 2,946 yards, 27 touchdowns, 12 interceptions with 831 rushing yards and 12 rushing touchdowns, he also caught a pass for 4 yards and a touchdown. The Vols finished the 2016 season with a 9-4 record and a trip to the Music City Bowl where the Vols defeated the Nebraska Cornhuskers 38-24 and Dobbs was once again named the bowl MVP.
Here are some highlights of Josh Dobbs' career at Tennessee courtesy of UT SportsFootball
    After his senior year, Josh Dobbs attended the 2017 Senior Bowl where he started for the South Team and help them to a 16-15 win over the North and finished 12 of 15 for 104 yards with an interception in a little over a quarter of play. Dobbs was also invited to the 2017 NFL Combine where he scored a 4.64 second 40 yard dash, 33 inch vertical jump, 122 inch broad jump, and a 6.75 second cone drill. He is considered as one of the most intelligent and likeable players to play in college football and will enter the 2017 NFL Draft with a 5.15 prospect grade according to NFL.com.
For tickets to Sports Fest 2017 go to www.1045thezone.com/sportsfest2017 and click on the buy tickets here tab and purchase today for only $7.